Is your email list small? Would you like to grow your email list with potential clients? Here's a strategy that works in 4 steps, and once you have it set up — it keeps working for you.
Step 1: Post a blog on your website.
A blog is simply a conversation with the people who read it. If you don't know what to blog about – you can read my suggestions for topics here. A great way to come up with topics is to write down the questions people ask when they call you. Can I do Pilates if I've had a hip replacement. I have back pain, should I wait until it's gone to start Pilates? Can people my age do Pilates? Every Pilates teacher I have met would answer this question honestly and inspire the listener to start Pilates. If you're uncomfortable typing the answer, then use the voice to text function on your smart phone, and pretend your phone is the client you're talking to. A blog doesn't have to be long, and again – it needs to feel like a conversation.
Do not talk about packages, prices or sales. At the end of the blog give the reader a call to action to call or message you for more information.
Step 2: Write a compelling teaser for the blog, and post it with the link to the blog on your Facebook Business Page.
You have about 3 seconds when people see the post on Facebook to convince them to click the link. If you're not sure how to "tease" watch the news or a morning news program. They tease upcoming stories before every commercial.
The teaser should not be the title of the blog, as it will appear with the link in your Facebook post.
As long as the blog is not date specific, this should definitely be re-used. You can repost it on Facebook every 3-6 months – because the content is good, and different people will see it. You could even have several different teasers to post with it. We call blogs that can be reposted evergreen content or "forever" content.
Step 3: Get that Facebook Post seen by more people.
The easiest way to do this is to use a Facebook Ad. I would use a Facebook Ad with the traffic objective, and target it at your ideal clients (women, age range, who live within a certain number of miles, who haven't liked your Facebook page). You could also target people who look "like" your website visitors over the past 6 months, or friends of people who have liked your page. Don't forget to limit the geographic range – you don't want to pay money to put this in front of people in another state.
The Facebook algorithm will control the organic reach of your post. Expand this by getting friends, family and clients to "like" and "share" the post on their pages!
Step 4: Capture the reader's email after they've read the blog by using a popup box on your website set to pop up when they click off of the blog. Some web developers hate pop up boxes — and I understand their reasoning. However, our goal is to get people on our list – and these absolutely work. My Pilates studio clients who do this get between 2-8 new subscribers a week. We tested this against Facebook lead ads, and the pop up box out performs them every time.
I use the free version of "Mailchimp forms by MailMunch". If you use another email program – there is likely a MailMunch form for it as well. This form is easy to configure, an connects directly to your email software.
Do NOT make this about sales as this tends to turn people off. A simple tagline like – "want more information" or "stay in touch" will be enough. Do not ask for tons of information – if that potential client sees this as time consuming – they will probably click thru it without entering their information.
Some of my clients have had success with offering a physical incentive for people to sign up. Something as simple as a theraband, or foot massage balls might convince people to leave their email. (and since they have to come in to pick that up — you have an opportunity to sell to that client when they come in.
You need to use that email that you just collected. Make sure to do regular monthly newsletters, and an automated welcome series to give that potential client more information.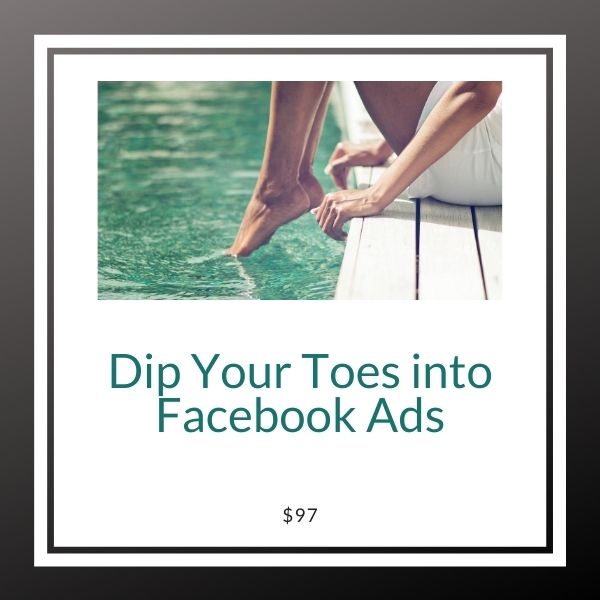 If you'd like to step thru each part of this process — there's an online Farm Girl Training Class for that. We go thru everything — including the set up of the Facebook ad.
For more info — click here!