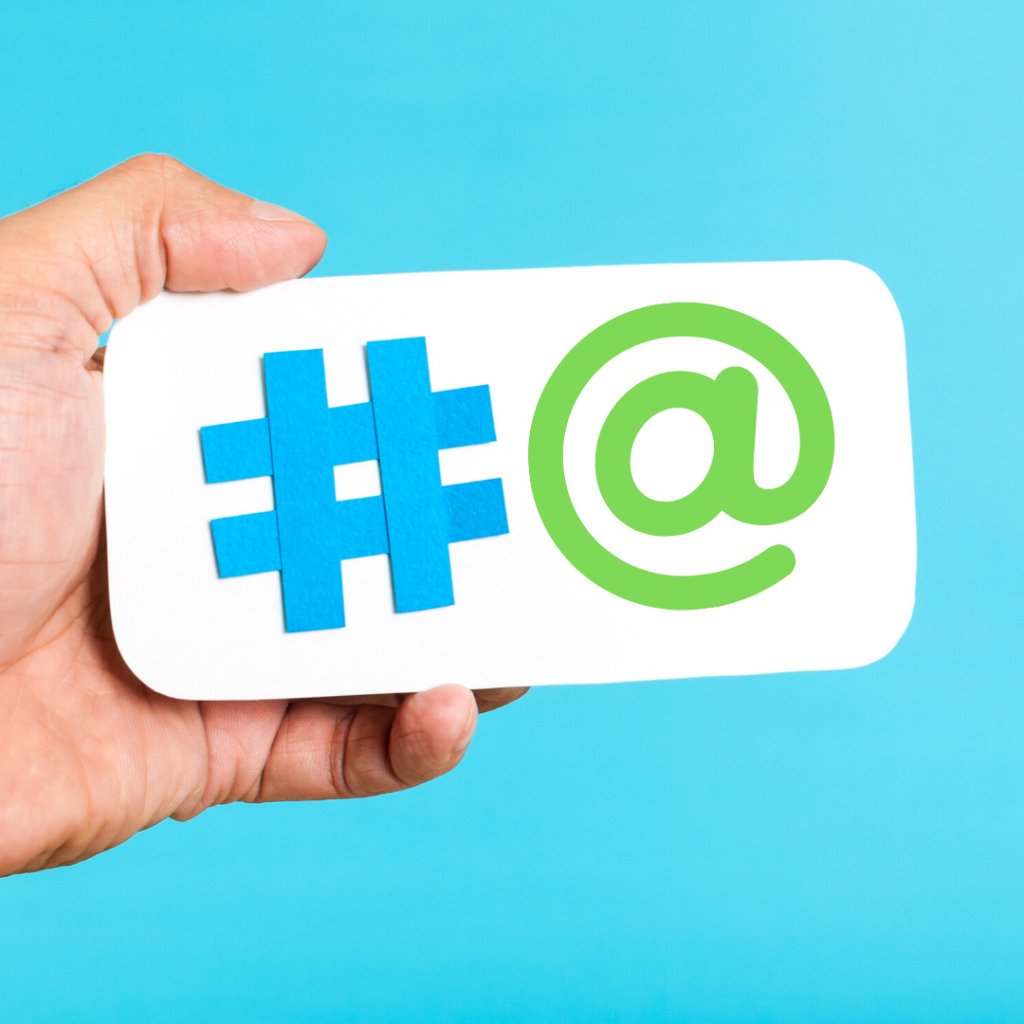 It's easy to paste in a bunch of hashtags into your posts, but do you know what that does for your Pilates Studio and your brand?
First of all – the definitions:
Tags allow social media users to engage an individual, business or any entity with a social profile when they mention them in a post or comment. In Facebook and Instagram, tagging notifies the recipient and hyperlinks to the tagged profile.
Hashtag: A word or phrase preceded by a hash mark (#), used within a social media post to identify a keyword or topic of interest and facilitate a search for it. Whenever a user adds a hashtag to their post, it's able to be indexed by the social network and becomes searchable/discoverable by other users.
And now in non-techy speak Bear with me here — this is hard to do in non-techy but I tried to illustrate each item to help you understand.:
Tagging (@bjmonroe, or @farmgirlmktg) – creates a link to that person or business's profile as well as notifying that person/business that you have tagged them. It's sometimes referred to as a mention. If you want the person or business to see that you mentioned them – tagging is definitely the way to go.

Tagging a business notifies the business that you tagged them, if your posts are set to public, or if the person who owns the page is your friend.
Tagging a person notifies the person that you tagged them, and depending on Facebook's exact algorithm and how you've engaged with that person on Facebook in the past (ie have you liked their posts?) – may show that post to their Facebook Friends. Free advertising for you.
If you're posting about a complimentary post or blog about a client who's story may inspire others, definitely tag them, because Facebook will likely show it to at least some of their friends (and will show it to more friends as the post gets more likes, shares or replies).

Hashtagging (#Pilates) allows people to find the post only if they take the initiative to do a search for #hashtag. This is definitely more useful on Instagram and Twitter than on Facebook, where people actually might search for a specific topic hashtag to find more people to follow.

On Instagram – a client might search for #Pilates to see pictures of people doing Pilates to see if they think it's something they can do. I don't know about you all, but when i search for #Yoga and I see people in all kinds of upside down and crazy poses, I pretty much figure that yoga is not for me. Thus, if you're posting pics for your studio, be aware, that the average couch potato does not know if that's an advanced pose or a beginner pose – and they make make decisions based on that picture.
On Twitter – Twitter is organized by topics, and you catalog a topic by the hashtag. Think of Twitter as a gigantic file drawer. I was talking to a friend of mine who has a high end western boutique, and she was hashtagging posts with #TibetanLamb. I wouldn't know to search for TibetanLamb, but I would search by something like #westernhandbag or #westernfashion.

When I worked at the VA, I used Twitter instead of going to a library to learn about elearning and digital training trends, and what was working for training employees. What I found was that consultants who were selling their services had written plenty of articles that I could get ideas and learn from. This helped me plan digital training courses AND learn to use twitter.

On Facebook — the research shows that hashtags are not having a significant effect unless you use too many hashtags when it drives the post engagement downward. The opposite of this happens on Instagram – where more hashtags drive engagement up! Thus, usually not effective to share Instagram posts on Facebook with the share button.

That being said, it's not bad to use a relevant hashtag on Facebook, it's just that unless someone searches for that exact hashtag, it doesn't really matter. Facebook is built on relationships, so tagging will generally get your post to a larger audience (friends of the person you tagged). Many people use hashtags on Facebook to convey emotion. #smiling
Hashtags and tags are very different, and whoever is doing your social media should know the difference. Here's some quick hashtag guidelines for you.
Brand hashtags shouldn't mention your company (#farmgirlmarketing) but should represent what you stand for (#hardhonestwork)
Don't go too long.
Don't try to be too clever – it's a fine line but can be misinterpreted.
Do not hashtag every word in your post!
If you'd like to talk about tags and hashtags on your social media posts, or if you'd like me to evaluate how you've used them in the past, make an appointment on my website and I'll be happy to do a complimentary consult with you!