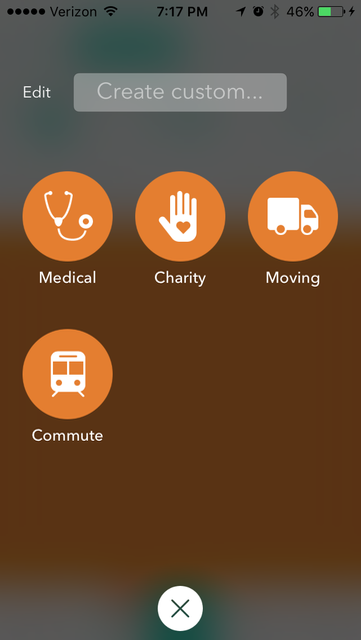 It's tax time – so one of the questions accountants ask is about your mileage!   Do you remember to track your miles? One of the things that has always been hard for me is those two questions on your personal taxes — how many miles did you drive to medical appointments and how many miles did you drive for charity.    By the time I do my taxes (I am a bit of a procrastinator), I have certainly forgotten most of the doctor and charity trips.     This year, I also had to track miles for my business.
Technology to the rescue!   I went to the App Store and found screens and screens of mileage trackers.  That wasn't particularly helpful, since I hadn't tracked mileage before — I wasn't sure what features I would want.    What I learned when I was doing research was that I really needed to find an app that wasn't too hard on the battery of my phone.  If an app is running on your phone all the time in order to track your mileage — it's going to use some battery time.      I was hoping for a free app — so I used free as one of the criteria when i was looking for an app.
I ran the search again tonight to see what i could find – and I found this article listing several free apps.     The important thing here – is to read the small print!    I decided on Everlance, which was totally free at the time and claimed to be designed to reduce the battery drain.   Since I started relying on Everlance, they've added premium features, with unlimited tracking, and their "standard" plan offers manual tracking.    Manual tracking doesn't work for me, so I went ahead and upgraded.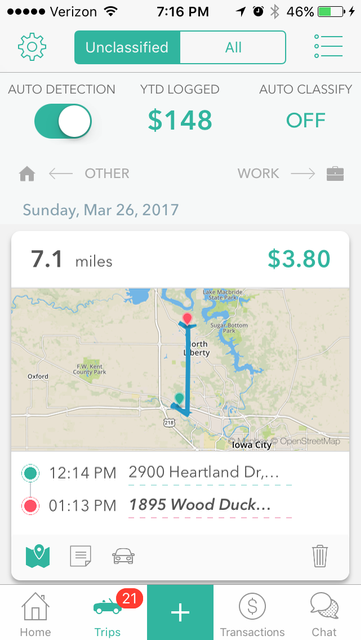 I noticed that some plans are free up to a certain amount of miles – however, as a new business I had no idea how any miles I would/could accumulate in a year.
If you're using Quickbooks — Quickbooks also has a mileage tracking app — and there's a monthly charge for it.   However, sometimes having something that integrates with what you already use is worth paying for it.
I'd love to make this easy for you — and say this is the best just go with it — but I can't.    New apps are popping up constantly – so I think it's a matter of personal choice and then what you get used to.   The fact remains — that technology can help you!   You don't need to keep a log in the car!   Let your smart phone do the work!   If you've got an app that you love for tracking mileage — please respond here so we can check it out!