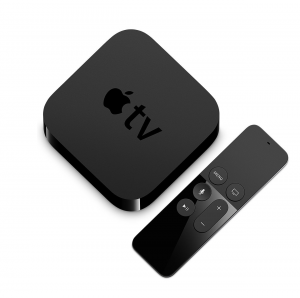 This post really has nothing to do with social media marketing.   We had company last week, and they asked how we watched rodeo on the TV in our living room so I thought I would write about it.  We were watching the Rodeo Houston at the time via their app for smart phones.     It's as simple as bringing up what we want to watch on our phone or tablet, and then clicking on "airplay mirroring" to play it thru the Apple TV.  On our TV — we just need to switch the input over to the appropriate HDMI cable that's attached to the Apple TV.
Here are just some of the reasons I love my Apple TV!
 It's easy to hook up and move from one TV to another!   If you have an HDMI cable and a power strip — you can easily hook your Apple TV to any TV in your house.   Maybe you think that you won't move your Apple TV around, but sometimes we use it on the screened in porch, sometimes we're downstairs in the family room — and on days that one of us is feeling crummy — we may watch it in bed!
We're working on getting rid of cable — although we haven't done it yet.   The Apple TV has easy access to a whole bunch of channels (some of which you do need a subscription to) as well as things like youtube, or programs/videos that you've purchased or rented on iTunes.    (What we haven't done is the math to add up if we could purchase only the channels that we watch cheaper than our cable bill.)
I can watch thing like the Price is Right, and my daytime and nighttime soap operas — without commercials without having to DVR!  They're just there any time I want to watch them.   (Yes, we watch the Price is Right.    We started watching when my Dad was alive and living with us, and now it's a habit that reminds us of him and makes us smile!)

It didn't cost a lot.    At $99, it did cost more than Roku or a Google chrome stick — but since all my gadgets are Apple, it integrates with all the other gadgets I have, and I can stay signed on to the Apple TV easily.   (I just looked up the current price and they are $149 now).

It has parental controls if you need them to restrict certain programs or channels or even the use of the Apple TV.
I'm a sports lover — and during basketball season when I'm trying to find a game from one of my favorite college teams — the ESPN app is easy — and I can watch any ESPN Channel or see the hundreds of games that are available on ESPN 3!
I have also taken the Apple TV with me when I traveled.    It's easy to pack, very light weight, and as long as there's a wifi signal — I can get what i want to watch on my Apple TV instead of being hostage to a hotel's selected channels.
There's a remote app for my phone or iPad, so if I'm not sitting by the Apple TV Remote (or we have lost it again because it's so little) — there's still a way to change programs!
You can name your Apple TV!   Ours is Annie the Apple TV!
Did I make you want an Apple TV?   I have to tell you, that we have used ours way more than we thought we would when we first purchased it.    With more and more things being available to watch via the internet — it may be something you want to consider!