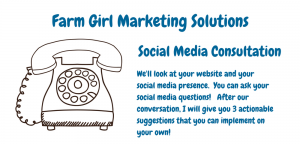 I had a consult today — and it's the kind of consult I absolutely love!    The Pilates Studio Owner that I talked with today, is so much my perfect client — that it just made me happy!    I got a potential perfect client to book an appointment with me — so I must be doing something right!   However — she didn't ask me for a proposal.   She didn't ask me how much it costs to hire me.   That wasn't on her mind.
I could be depressed.   I'm not preparing a proposal for that person tonight.   She didn't ask me what I charged, or what I could do for her.    She called to ask questions.   She called to pick my brain.    She showed me her website, she asked some questions – I gave her some feedback.    She was frustrated with her web support team, and that she wasn't getting leads from her website.    She googles Pilates in her town, and her website doesn't come up.    She posts on Facebook but she doesn't get a lot of action.    She gets engagement on Instagram – but most of the people who "engage" aren't local so she's not getting clients from the time she puts into posting on Instagram.
Has this happened to you?   Has a potential client called you?   Did they ask you a lot of questions about Pilates?   Did you answer every question?    Did you think you really "connected" and then that person said "thank you very much" and hung up — and an hour of your time is gone, and you don't think that client is going to walk through your door?      You could take it personally, you could be frustrated.    But it would be much better to use that conversation for topics for blogs.  You will reach many more of that perfect potential client with blogs explaining the things you explained on the phone, than you will with the glass of wine that you pour because you're frustrated!
What I loved about the consult today was the interaction.  This type of client is why I started my business. Pilates teachers / studio owners went into the Pilates business because they loved Pilates — not because they wanted to start a business, build a website and do social media.    She reminded me of why I do what I do.   Why do I specialize in Pilates?    Because I love Pilates and I want other people to see the same benefits from doing Pilates that I have.   For a lot of studios, I'm their perfect client.     I'm over 50, I'm overweight,  I had taken a "respite" from working out for 3 whole years before I started Pilates, I've spent the last 20 years working on a computer 8+ hours per day so I have issues with tech neck and low back pain and, well there's just so many reasons.   I am representative of her perfect studio client, and she is my perfect studio owner client.
Here's a quick snippet from our conversation.   She asked me about her website — so I went and looked at it,    I've seen a lot of of Pilates websites that tout the training program their instructors went thru.    I have to tell you, when I first made an appointment at a Pilates Studio after a 3 year break from exercise in which I had moved my parents into my house, helped my mother recover from a stroke and a broken hip, and then watched her basically starve to death from pancreatic cancer — I could've cared less if the studio I was looking at had instructors trained by Basi, Balanced Body, Stott or anyone else.    What I needed to know from a Pilates studio website was what Pilates would do for me — and whether I could trust that studio to help me get back to "living" again.    It's much more important to me to know that my instructor has trained hundreds of hours and hasn't taken a course on the internet to learn to teach this method.    It's important for me to know this exercise method isn't about the choreography, it's about learning to move your body from your center.     It's important for me to know that I don't have to be "in shape" to come to the Pilates studios, and that I can trust my Pilates teacher to help me get active again.    As a potential client — I'm not really interested in the physiology or kinesiology behind why Pilates might help me — what I'm interested in is how I'll feel better.   This studio owner seemed to understand what I was saying immediately.
She had a zillion more questions — and from each of her questions — I have a blog to write!   I left the call excited and motivated — because she brought me back to the reason I started my business.   I don't want to sound like a geek, and talk about SEO and paying thousands and thousands of dollars to update your website.    I want to give you practical advice that you can implement, as well as some things you can do to check and see if your efforts are working.    Want to chat about your website or your social media efforts?   Make an appointment today!  You won't get a sales pitch from me, and no proposal unless you ask for it!