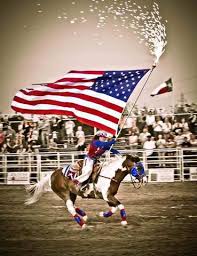 This time of year is an incredible time for professional rodeo athletes.    There are an abundance of rodeos, and a ton of money to be won!   The July 4th week is often called Cowboy Christmas.   There are more high paying rodeos on the PRCA circuit than you could get to by truck/trailer – so athletes are putting their GPS's to work, and trying to figure out the most efficient way to get from place to place, and make sure their equine partners are there as well.    Until a couple of years ago — I didn't realize that some cowboys have two rigs traveling with their horses — and they fly between them in order to go to more rodeos!   Can you imagine?
| | |
| --- | --- |
| We've been fortunate in Iowa to see some of the top cowboys in our state in June.     I made it to the two rodeos in eastern Iowa — and both nights we ended up soaked!  When we went to the Jackson County Rodeo — the weather forecast was for a few stray thunderstorms south of Interstate 80 — 90 miles away!    We believed the weather people (maybe it was wishful thinking) and thus — we had to convert the quilt we were sitting on into something that kept us from getting hammered by the rain.    We did see a beautiful sky full of lightning and interesting clouds in the 90 minute drive home! | |
| | We saw the clouds turning purple and getting closer  — and knew that we were going to be in trouble…… |
| During the rain — we looked like the next picture — huddled between a quilt and a blanket– and that's me — hiding behind a cowboy hat.     The rodeo clown was making wet tee-shirt jokes because everyone had on a wet tee shirt.     We were very grateful for the seat heaters in the car when we got back in to drive home — they kept us warm through our damp clothes! | |
You'll want to keep an eye on the Wrangler Network as well as ProRodeo Live over the next month.   I believe I read that there would also be a broadcast of the Calgary Stampede every day (also on the Wrangler Network).   Until I get to go there and see the Calgary Stampede live (and check that item off my bucket list) — the broadcast lets me watch the rodeo (and the chuckwagon races at night) without leaving home!    You can find the schedule of broadcasts on the Wrangler Network here — I just added them to my calendar so I wouldn't miss a broadcast!   The Reno Rodeo has been on for the past couple of weeks, which was really good for TV addicts like me — who aren't thriving on the summer replacement shows.    We just turn on a rodeo instead!
If you're headed to the NFR — it's time to get your tickets and room reservations if you haven't done that yet!   I made room reservations a few months ago — and I'm still working on my tickets!  More next week, from this rodeo fan!