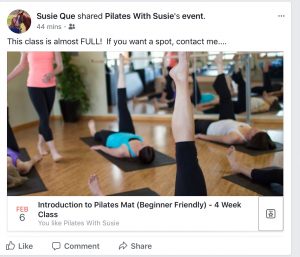 Some of my clients have had success by creating Facebook events for class series or workshops at their studio, and promoting them on Facebook.   Yesterday, someone asked me what choices I make when I create an "awareness" ad for one of those events, so I went thru and documented it!    It took me a mere 24 steps to promote an event!   I start with something like this — and then depending on the response, I tweak the ad to try and make it more effective.   Sometimes, it gets great response like this, sometimes I need to drill in to things that indicate the client's income or health.    Important to note here that the info in this blog comes from my personal experience creating ads for Pilates studios, and the success (or failures) I've experienced.  
Important to note – that this requires pictures with less than 20% text — so I often use different pics for the ad than I use on the Facebook event.
Also the most common mistake I see is when someone gets to the "interests" section to try and refine their audience – they type in Pilates.   My opinion on that is that most studio owners are not trying to reach people who are already interested in Pilates – you're trying to reach people that are at home on the couch, or those people that are dealing with pain or motivation issues to working out.   So I rarely put Pilates in a an interest if we're targeting a beginner level class.
Go to ads manager (you find it from your home screen – on the bottom left)
Choose the objective (engagement).     I don't always use this one — but when you're trying to publicize an event — it's helpful.
Near the bottom of this page — choose event responses, and name your ad where it says engagement.      i usually name it the name of what I'm trying to promote.    You will have to enter a name several times, so make it simple.
Next page — enter the name of the event again for the ad set.
In the audience section — we'll define the audience unless you have one saved.   Since current clients can usually get the information about the event at the studio — i generally try to get people that aren't connected to the studio on fb.     Once you have an audience saved — you can re-use it.
Enter your location — and once that's in you can enter how many miles away you think people might come from.  Around the location where I live, we usually use 25 miles because lots of small towns around here don't have Pilates.    In a suburban studio – you'd have to experiment with this – but I'm guessing you'd use something like 10 miles or less, most of the time.    However, I think many "ideal" Pilates clients would drive farther if the they have "connected" with a certain Pilates teacher, so I don't think your money would be wasted if you chose to advertise a few more miles away.   
Enter your target age range — (don't waste your ad money on younger folks if your ideal audience is 45+)
I usually restrict this to women – since most Pilates clients are women.   (I think you have to drill in more to interests to do ads for men).
I don't usually enter anything in the language section — but in a large city — it's probably safer to enter English.
Detailed targeting is available next — but when i'm trying to get new people in the door – i usually leave this blank.   (I don't enter fitness/pilates because generally the ideal customers for pilates studios are coming off the couch — not coming from another gym).
If I am doing an ad for a Beginner Series,under connections — I generally choose Facebook pages; and exclude people who like your page.
Type in your fb page.   (There are restrictions on which Facebook pages you can type in — and they're complex, so for this ad — just type your page)
Click on the "save this audience" and name it something that will let you know what's in it when you want to use it again (women over 45 in City Name / not liked our page)
Slide on down to budget and schedule.    I like daily budgets better than lifetime budgets because i can edit it up or down depending on responses easily — but it's not a huge deal which you choose.   starting with 1, 1.50 or $2 a day for a week is probably a good option.
Under schedule – -it defaults to run this ad continuously — and since the event starts on a certain date  — you will probably want to end the ad on that date — choose set a start and end date and enter in the appropriate dates.
Click continue.
At the top of the next page — put the ad name in again.
Then choose your Facebook page in the identity box.
Skip the images section for now and scroll down to events.
Click the event box and scroll down to the event you want to promote.
The description of the event does not come in automatically (usually the first phrase comes in as a partial sentence.    I usually just go to the event and copy the description into the description box.
Now you need to decide if the image in the event will attract people.    If you don't like how the image from the event looks — go back up to the image session and upload a different image.   if you want to "test" several images — that's always a good option.   choose the "single" image option — and upload up to 6 pics.   (they should be horizontal in nature).   Remember — no more than 20% text can be on the image.
You can look at the ads and how they'll display on mobile or a desktop on the left!    Make sure you like them – and adjust accordingly.
Click confirm at the bottom of the page and you're done!
A mere 24 steps to a "basic" Facebook Ad!     If you have any questions, or you'd like to talk thru any of this — you can make an appointment with me on my website!