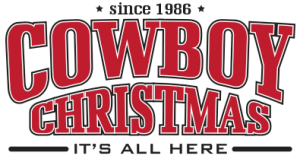 It's almost time for the 2017 Wrangler National Finals Rodeo and Cowboy Christmas at the Las Vegas Convention Center.  I love all the western marketplaces during the finals, but Cowboy Christmas is my favorite!  Every year they take improve on the last year's experience – and there are new things to explore and do.
One of the things that amazes me about Cowboy Christmas is how there is something for everyone.  There's shows, shopping, and a million ways to learn more about rodeo.    Mike hates shopping with me (he says I linger, and go in circles, and take way too much time – sound familiar anyone?) however I think he loves Cowboy Christmas as much as I do.  Cowboy Christmas is an experience that includes shopping, and that's what the folks at Las Vegas events improve every single year.    Don't skip Cowboy Christmas because you're on a budget and don't want to spend money.   It's very possible to go to Cowboy Christmas and not spend any money!  I'm not sure I have ever done this — but it is possible!  Just avoid the booths that are your shopping weakness!   Shopping wise – there's clothes, boots, horse equipment, rodeo equipment, furniture, art, jewelry (expensive and costume), western decor, trucks, campers, horse trailers, furs, and probably a bunch of categories I haven't named.  There's nearly always a draft horse that you can pet!   Even if you aren't going to purchase furniture or art, it doesn't mean you can't stop in the booth and check it out and appreciate the craftsmanship!  
Tip 1:  Take your time!  Experiencing Cowboy Christmas is much better than just "seeing" Cowboy Christmas.    There's Cowboy Christmas (the first floor of the convention center), there's Cowboy Christmas Too – upstairs adjacent to the Rocky Mountain Elk Foundation show, and there's the Junior NFR all in the Convention Center.   If you're determined to see it all in one day — you'll likely end up with sore feet and be frustrated.    We tend to go several times for a few hours each, instead of saying "tomorrow is the day we will go to Cowboy Christmas".
Tip 2:  Go early!  The earlier you go to Cowboy Christmas, the less crowded it will be.    The aisles are wide, so there's plenty of room — however the thing to keep in mind is that these vendors have packed up their merchandise, driven across the country and then they set up a booth – which is generally a smaller space than their store! So if you just zip on by — you will probably miss things! Take time to look and enjoy each "store" you visit!  Talk to the vendors – many of them have incredible stories and have traveled a long ways.   (I'll blog about some of my favorite vendors when I'm on the plane on Wednesday).
Tip 3:  Do some research before you go!   Everyone's time is limited when they're in Vegas, but you don't want to leave Cowboy Christmas at 1pm, only to find your favorite competitor is signing autographs at 2pm.   If you want to visit specific vendors, there's a vendor list in the Cowboy Christmas section of the Official NFR Experience app.  If you want to meet a certain cowboy, follow them on social media – most of them post a schedule of where they will be meeting fans during the day.
Tip 4:  Download the Wrangler NFR App and follow Official NFR Experience on social media.   This app has a list of all the vendors in Cowboy Christmas so you can find your favorites, they have updated schedules and maybe most importantly – there's live stats from the NFR – and a list of all the participants by back number.    So when you see someone walking down the aisle in an official contestant jacket with a #103 on his/her back – you can look it up and see who it was!
Tip 5:  Wear good shoes!  This is one thing that I have absolutely learned the hard way.    I remember walking around one day at Cowboy Christmas trying to find ibuprofen because my back hurt so bad.  I was wearing pretty (but not very stable) shoes — and I paid the price.    I bought a pair of cowboy boots, wore them constantly for the next few days — and felt much better.  Another time, i had worn a new pair of shoes thru the airport on the way out – got HUGE blisters on both feet — and had to spend the next few days wearing my moccasins and not walking much!   (You might also want to take some bandaids in case you get a blister).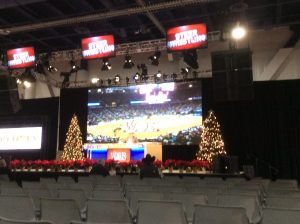 Tip 6:  Don't miss the shows!   This is something that took me a few years to figure out.   Yes, sometimes I'm slow.    I would see this group of people (generally looking like a bunch of retirees) sitting in the chairs by the stage – and I would wonder why they were sitting instead of shopping.    Last year, I was having some back issues so I couldn't walk for a ton of time at once, so I sat down to watch a show, and I loved it!   I discovered the Flint Rasmussen and his Outside the Barrel show, and the RFD TV Western Sports Round Up Show at Cowboy Christmas.   The Rodeo Live stage has a schedule here!   You can learn a ton about rodeo, see interviews with contestants and have some great entertainment without paying a dime!  Make sure to schedule some time to take in a show!
Tip 7:  Booth Numbers.   I can't tell you how many times I have found a great item to purchase (even something little like a Christmas Ornament) in one of the first booths I visit, but I don't want to buy it yet because I don't know what else I might find.  I have learned to look down at the carpet, find the "booth number", write it down with my phone – so I can go back there later.   There are also "aisle numbers" hanging in each aisle – kind of like street signs!    I promise –when it gets crowded at Cowboy Christmas in the afternoon – booths don't look the same as when they are partially empty in the morning – and it's hard to recognize if you're in the same place!
Tip 8:  Food & Drink:  There is food & drink at the Convention center, and this is one of the things that I've noticed that improves every year.   However, you need to realize that convention centers have contract vendors for their food venues so it may seem pricey and at least for us — the venue that might have what I'm hungry for, is about 1/4 mile away from where I am in the convention center when I get hungry.  We try to eat breakfast before we go to Cowboy Christmas, and we generally get a late lunch when we leave.   Lunch at some of the smaller casinos off the strip is generally really good, and much easier on your wallet.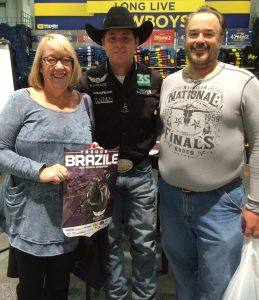 Tip 9:   Cowboy/Cowgirl Watch:   There's generally always some of the contestants signing autographs around Cowboy Christmas.   Some will be easy to find and some will be harder — so it's good to (tip 3- do research, and tip 7 – pay attention to booth numbers so that you can find them.   We just happened on a booth one day when Trevor Brazile was doing an early morning signing – and there wasn't a long line- so we were able to get pictures and chat a bit! It really left me wishing i had taken more time with hair and makeup that morning!  It was fun!  Sometimes the sponsors of the cowboy provide them with autograph sheets (or a calendar) that are fun to collect – and some of them are even frame worthy when you get home!
Tip 10:  New Bag Policy! There's a new clear bag policy at the NFR, and there's a bag search / clear bags recommended policy at Cowboy Christmas.   While I find this a little annoying because I have a lovely leather fringe purse that I generally carry — I really want to be safe, so I'll be carrying a clear plastic bag with everyone else!   I'm sure there will be clear plastic bags with a western twist everywhere when you're shopping — but you may want to stop at your favorite mall and pick something up before you go to avoid the search lines.   The new policy for Cowboy Christmas is here!
Tip 11:   I know — it's a Top 10 list with 11 tips, but this one is important.    Be careful what you post on social media if you don't have someone watching your house at home!  The Official NFR Experience app has a tagging contest set up which is great fun, but you have to have locations enabled on your phone, which means it's possible for people to know that you're not at home.  I haven't really tested the tagging yet, but even if you're not doing that — it's really hard to be at the NFR without posting pictures, so it's likely people will know you are not at home.  Either make sure your security system is on, or be careful with your posts!