You are going to love this workshop. Each of these steps can be implemented separately or together!

Are you tired of slow Decembers in your studio? I've invited Carey Sadler, owner of Rivercity Pilates to join me for a webinar on October 15, that will show you how to create a new holiday income stream in just 5 steps! Well, that's a little misleading — because after the webinar you can choose to implement all of the steps, or part of the steps — whatever you are comfortable with!

We'll talk about:
The one step you absolutely must take to increase holiday sales.
The key to driving sales throughout the entire month off December.
Easy ways to step up your non-class revenue.
The most effective type of marketing to support holiday sales.
AND MORE! Carey will let you know what has worked for her in past years, and we'll share her plans for this year.
Yes, there's a fee of $97 for this webinar — but in addition to the 4 things above – you will get:
A workbook to ensure you get the most out of the webinar
An action plan for implementing one or all of the steps.
The exact emails that Carey used in 2018 including the 1 day special deals. All you'll need to do is customize them for your studio.
Ideas for Gift Certificates and Pilates Gift Boxes.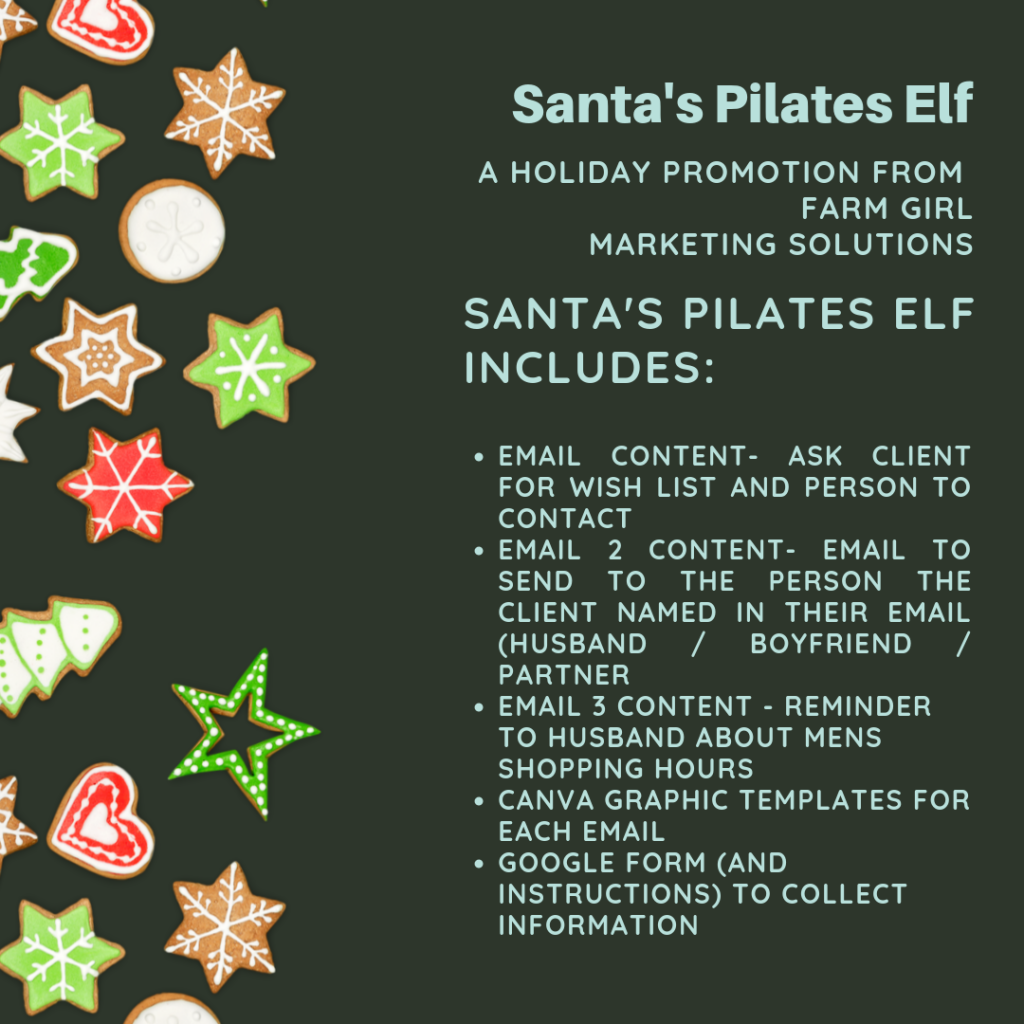 EARLY BIRD BONUS! If you register before September 30, you will receive the Santa's Pilates Elf package for free! (retail value $149) which resulted in over $1000 sales in just a few hours! We developed the Santa's Pilates Elf package, because we know that sometimes it's hard to buy meaningful gifts for adults. We thought what better way to help, than have our clients tell us what they want and who they thought needed a nudge to buy a present, and we'd contact them! It's a promotion that works year after year — and you make money every time! The Santa's Pilates Elf Package includes two emails, a google form, Canva graphic templates and an action plan to guide you in making this promotion effective for your studio. Register today, to get your Santa's Elf Package for free!