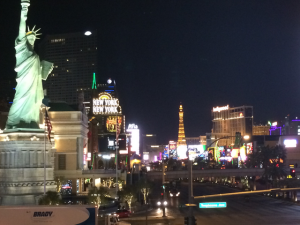 The reaction to my Cowboy Christmas blog was amazing — and I've received a lot of questions about where to stay, where to watch if you don't have tickets, and that type of thing.    I'm planning a blog a day till the NFR — and my list got considerably longer with topics after all your comments on the Cowboy Christmas Blog.   I'll tell you our hotel experiences here — and I'd love to hear your take on where to stay!    Today let's talk about where to stay, and later this weekend — we'll talk about where to watch the NFR if you don't have tickets!
When we used to come for a few days — we just picked a hotel (usually by price).    I typically don't book our hotel until the October/November time frame — and depending on the economy of Las Vegas — the hotel deals may or may not get better the closer we get to December 1.   Thus — it's November 3 and I still don't have a reservation.    I'm scouting!
Here's my hotel must haves:
The Hotel needs to be on the NFR Shuttle Route or close to it.  This requires some scouting.    This isn't to say that a hotel without a shuttle is out of contention.   Sometimes you can stay at a hotel without a bus route – but there's a bus stop at another hotel nearby!   Google Maps will be your friend!  We don't have a requirement that the hotel be on the strip.  One of the times that a Strip Hotel really has an advantage, is if there's a long taxi line at one hotel you can walk to the next one and get in their taxi line!
A Restaurant or Restaurants that are open after the rodeo where we can get a snack or dinner (depending on our day and how hungry we are).    Some casinos close one or more restaurants in December because their occupancy is lower — so that's just something to be aware of as well.
No history of beds shaped like a potato chip.   I went to a conference in Las Vegas a few years back, checked into my hotel and the bed was shaped like a Pringles Potato chip.   Sagging in the middle and higher on the edges.    Sleep is important — so I have ruled a few hotels out for having unacceptable beds.    I can't keep track of the rennovations on this to give you hotel names — but sometimes the hotel websites indicate the last time the hotel rooms were remodeled.  
Hotels get Bonus Points with me for:  
Having some sort of package that gets me free food/drinks/gambling money.    The MGM generally has a rodeo special with 2 free buffets, and 2 free whiskey drinks, but often their packages to try and entice gambling are a better deal!
Not having a resort fee.   The resort fees in Vegas add a bunch to your room prices — so don't be surprised if you book a room for $99 and then all of a sudden your bill says $134!    It's the resort fees.   Sometimes the packages that they offer waive the resort fee — and that can be a major savings.    I'm trying to remember what we got for the resort fee — but I think it's just the internet.    Some hotels put a bottle of water in your room with the resort fee — but I don't remember getting that last year.
Hosting the competitors of one of the rodeo events!    Even though I'm old enough to be their mom or grandmother — I still go all fan girl when I see the professional athletes in the hotel.   They stay the same places that normal people stay.   They don't pay thousands of dollars a night to stay in an Air B&B to avoid the fans.   I love that about rodeo!
Walking distance to a convenience store (CVS/Walgreens) is a bonus.
Upgrades on the rooms are a bonus for me.    We'll pay a little more to have a couch and a little extra room — because that gives us space to do some Pilates mat work in the room, and undoubtedly — when our feet get tired at the shopping events — we spend some time resting before we leave for the rodeo!
One more thing to consider:  
Traffic.   You spend more time on the buses at the north end of the strip than you do at the South End.    The buses from the MGM / Mandalay bay have a straight shot over to those hotels from the Thomas and Mack.     Depending on how hungry you are after the rodeo (or how you thought you could wait to go to the bathroom until you got back to the hotel)  — this does make a difference.
Non Gambling Hotels / Condo Rentals:
I know these exist — but I've never stayed in them, so I don't have a good handle on where you might want to stay.   There are chain hotels that are really close to the convention center that are probably terrific to stay at, and I know that many hotel chains have vacation properties in the area.
Our Plan:   
I truly don't have a plan yet.   The past few years we've gone for 6 or 7 days — so we stayed 3 days at the Mirage or Venetian and 3 days at the MGM.   Not sure we'll do that this year — we might stay the whole time at 1 hotel so we don't have to pack in the middle of the week!   What are your plans?