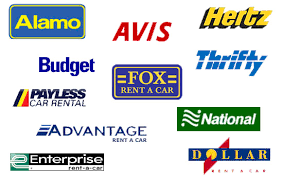 Do you need a rental car?   There are pros and cons to this one – so let me tell you about what we do.
We've been going to the NFR for around 10 years. We have been getting a car for the last few years, but we use it less and less as the shuttle service gets better and better, and if you're trying to save some money — I'd say skip the rental car.

We didn't discover the NFR shuttle buses to the rodeo for the first couple of years. While we knew that they existed, it took us a couple of years to figure out how convenient they are. Now that we have discovered them, we ALWAYS take the bus to and from the rodeo.   We generally try to get on the first bus at 5 from whatever hotel we are at (which doesn't have to be the hotel we're staying in — it's just where we are at rodeo time), and then spend some time at the Fan Zone before the rodeo.   If you want to take a bus at say 5:30 or 6 – then you run the risk of buses being full, or having just left – and you have to wait until the next one.   Some years – that can be a cold wait.   However, there seem to be more buses and better routes every year!   They drop you off right at the Fan Zone, and they are very organized about getting people in lines for the return trip.
After the rodeo, you can hustle to the buses, or you can take your time, and stop at the fan zone on the way out.  Some folks actually leave the rodeo before the bull riding to get on the bus, but we stay for all 15 bull riders.  After the bull riding, the flag girls ride around the arena and there's a bit of an ending ceremony — but I have to admit — I've never seen it till the end.   We're out of there on the way to the bus lines!  The NFR people are amazing at keeping the buses moving — and the only time we ever had to wait for a bus for more than 30 minutes was when one of our friends had decided to leave the rodeo early and didn't tell us.   We were the loyal types that didn't want to leave him — and suddenly he sent a message from the Hard Rock asking where we were!  That was a late night.
There's no rule that says you have to go back to the hotel you came from, so if you want to go to the Orleans for NFR Tonight, or the Buckle Ceremonies at the SouthPoint – you can hop on those buses, and then take a cab back to your hotel.   Even when we have a rental car, we always take the bus to the rodeo.
They're also very organized with the cab lines at the rodeo!   The trickiest part of that — is figuring out where the end of the line is so you can get in the line!   The cabs tend to arrive in groups of 10-15 cabs — and the people at the Thomas and Mack are very good about managing the lines to make sure people get in those cabs and back to the strip without major delays!
Last year for the first time, there were shuttles to Cowboy Christmas!   These were amazing, although if you're a shopper, sometimes it's good to have a rental car in the parking lot to take your packages to the trunk half way thru! No need for a rental car now, although depending on what else you have on your schedule – if you want to get off the Strip for lunch or some gambling, a car might be more convenient.   When we go to Cowboy Christmas, we generally go first thing in the morning before the huge crowds, and after 3-4 hours – we're ready to sit and take a break at lunch. Driving is handy for that, because you don't have to operate on a bus schedule.   However, parking at the convention center is generally $10, and if you don't get there early, there aren't any spaces.
Lets say you're going to the rodeo for the first weekend.     A midsize rental car on Travelocity costs $25 / day – so we'll go with $150 for a few days.   Add $30-50 for airport taxes and another $30 for gas.   So $230.   You need to check with the hotel you're staying at, and see if they have free parking.   In past years, all casinos had free parking and free valet service (except for tipping) — but all the MGM properties (MGM/Mirage/Monte Carlo/Aria / Bellagio)  started charging for parking this year.      That's over $250 for the rental car – and if you move that into cab rides – that's 10 cab rides at $25.   (and there's a whole lot of places you can go for less than $25).
The rental car gives you an element of convenience if you want to make multiple trips to the SouthPoint or Mandalay Bay or even a trip to the Bass Pro!   However, if it's your first trip to the rodeo, it's probably going to be more economical to use cabs.   What we've learned after many years, is that it's nice to have the rental car, but having the rental car, doesn't mean we don't take the bus or we don't use cabs.   We tend to take the most convenient mode of transportation, that fits in our rodeo schedule!
I was just reminded by a blog reader (Thanks John Moore) — that a car is also good if you'd like to get out of the casino/shopping mode to play tourist during the day time.    He suggests visiting Red Rock Canyon, The Mob Museum and the Neon Museum.     I had friends in town last year that also went to the race track and the grand canyon!   If you want to do some site seeing — you have a couple of options.    You can rent a car for your entire trip — or most of the hotels/casinos have a car rental desk inside — and that way you'd only pay for the day you need it!
For more tips, on what to do, how to schedule your time, and things you won't want to miss at the rodeo – follow "Rodeo Fan Blog" at Farm Girl Marketing Solutions.