This blog is written by Carey Sadler, Owner and Instructor at Rivercity Pilates.    She's a wife and mom.  She's a momtrepeneur.   She's an amazing Pilates teacher.   She's pretty much Superwoman.  She even knows when she needs to ask for help!     Here are her words…….
I'm pretty sure that one of the reasons I've been able to run a successful Pilates studio and survive the challenge of entrepreneurship for almost 10 years is my "I can do anything I put my mind to" attitude. I decided a long time ago that if I wanted to do something in life…I could do it and no one would stop me. If I needed to learn something new..I would learn it. If there was an obstacle in my way I would not get discouraged. I know that there is always a way…even though it might not be the way I originally envisioned. And even though my positive, "I can do anything" attitude usually has great results….there are times when it keeps me from reaching my full potential as a business.  There are times when my " I can do anything" attitude keeps me from asking for help, keeps me from looking at solutions or ideas that I may not of thought of and probably keeps me from growing as much as I could. Even though I know this about myself, I still catch myself letting this personality trait of mine take over. I really have to make an effort to catch myself from falling into this habit of doing everything myself.
The example that keeps popping up lately for me has to do with marketing and some of the work that Becky does for me for the studio. Becky has been working with me for almost 4 years helping me grow my business and one of the lessons I continually get reminded of when we work together is that even though I could do something…it is often better to let someone else do it who could do it better!!
I am very involved in the creative portion of the marketing process…creating ideas, writing content, etc. I feel lucky that the creating content portion of marketing comes easy to me and I like to do that part. Becky often "finishes" a lot of my marketing content after I start creating it. After I create the content, there is a part of me (the "I can do anything" part of me) that often tries to convince myself that I could just do the "finish work" and not bother Becky to do it….because well….I know how to do it. And the reality of it is… I can do it and it would be OK, not horrible and would probably get OK results. OR I could let her "finish it" and something that was "just ok" content could turn into something fabulous. By fabulous I mean something that gets twice as much engagement from our marketing audience and is twice as effective at getting results like getting new clients in our studio…
Wondering what I'm talking about when I say "finish" work? I have a few other names for the "finish work" Becky does for me..prettying things up and fabulizing are some of my favorites. Usually I send her a note and ask her if she can make the newsletter or email letter I'm sending out "pretty" because all of the content is ready to go but it still doesn't look finished. Sometimes I ask her to "fabulize" a graphic that I started. Fabulize is a word I created to describe the process where she takes something that I did or an idea that I had that was "just ok" and turns it into a fabulous piece of marketing that creates results for our business.
One of Becky's many gifts is her ability to design content that is really visually appealing to potential clients. She also is great at putting together visually appealing displays of clothing and merchandising at the studio, setting up our snacks and drinks at our studio events to look as good as they taste (always Pinterest worthy!), and when it comes to fashion she is always wearing the cutest outfits, with matching jewelry, shoes, the works! (Confession….when I have an event and need an outfit…I'll ask her to online shop for me and she always finds the perfect outfit that I would have never picked out myself!!!) Clearly she is a natural at making things look visually great whether it's a graphic, a newsletter, a Facebook post, a display at the studio or even an outfit!
Over the years I've tried to learn how to create more visually appealing content( just like I've tried to get better at doing things like decorating my house, picking out cute outfits…) but honestly as much effort as I put into this type of thing…. it doesn't change the fact that it is not my one of my strengths and most days even my absolute best effort turns out just ok..
There were a couple times this past month where I almost didn't ask her to pretty things up when I had a project. I almost just did it myself and sent things out to clients. Luckily I caught myself in my bad habit of not wanting to ask for help and ended up sending them to her! Each time when she sent the final piece back to me I had a moment where I thought…why in the world would I have not had her do her magic?  She took what was an OK piece of marketing and made it amazingly better and I knew what she had done would make it more effective. Each time it reminded me I had to get over my ego and my "I can do anything" attitude and learn to take advantage of the talented, amazing people I have on my team, like Becky! Having people to do the stuff I don't do so well really optimizes my own time and helps my business grow the best it can! Check out a few of the examples below of how Becky "fabulized" my content!
Constant Contact Message……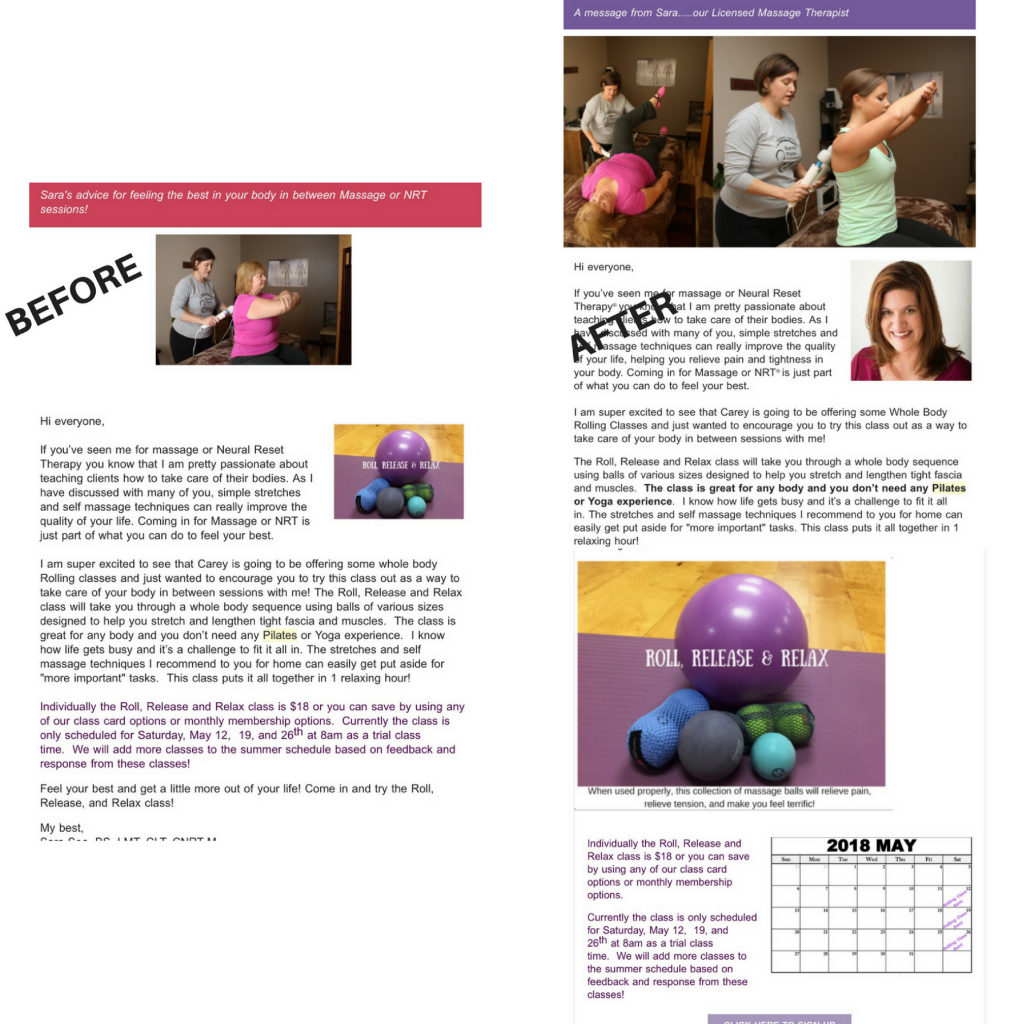 Newsletter Header for Summer Challenge: