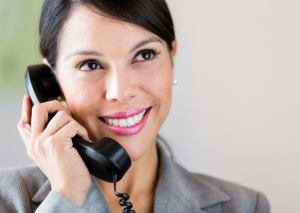 A potential client calls the studio phone.   She says, "I have back pain from a car accident years ago, and I just read about your Inspiration of the Month, who found relief after back surgery by doing Pilates a couple of times a week.  Can you tell me more about that?   Do you think you could help me?"    No, its not a dream, these kind of things really do happen if you take time to blog and allow clients to start building a relationship with you before they ever come thru your studio doors.
Why should you blog?
Share your passion – reach more people.     You know how everyone thinks Pilates is just like yoga till they take their first session?    Talk about Pilates in your blogs.   Post pictures (not artsy / advanced poses / but typical beginner exercises.   Reinforce the idea that Pilates is for everyone.
Let people get to know you and your business.   Whether you're a crop top studio or a studio where you can feel comfortable in your husband's XXL tee-shirt, people want to get a glimpse of what it's like in your studio before they walk in the door.
Companies who blog acquire 67% more leads than those who don't according to a study by Social Media Today in 2017.  Who doesn't want to increase the size of their email list?
On that same study by Social Media Today, they found that internet users in the United States spend 3x more on blogs than they do on email.     I'm not saying that the average Pilates potential client drives by a studio and then goes to seek out their blog and check it out, although that might happen.    Many people learn about businesses on Facebook, Instagram and Twitter.   If you post a intriguing comment, with a link to one of your blogs on social media, people find blogs without knowing they're on blogs.   They think they're reading an "article" on Facebook.As an aside…..I lost a dear friend to cancer a couple of years ago, and I wrote a blog about our 5 decade relationship.   The blog I wrote was for me, a way for me to deal with the harshness of cancer, and the loss of a friend.   I published it on my personal blog, and it was one of the most shared blogs I have ever written.  I ran into a cousin of mine (in her seventies) at the funeral, and she said, "I want to read your blog."  I told her there was a link on Facebook on my post, and she could read it from there.   She said, "Oh, i didn't know that was a blog!"  Case proven.    You don't need to understand what a blog is to read one!
You can use your blog to educate people about Pilates.   You can show them that you're not in "warrior" pose or twisting up like a pretzel.    You can let people know that people come to Pilates for pre-hab, rehab and even post-Physical Therapy.
You can build brand awareness.   Maybe those people who read your blog didn't even know there was a Pilates studio in your neighborhood!
Improve your SEO.    If you blog twice a week, then you're adding new content to your site twice a week, and Google sees your site as active (whereas if you built your website in 2010, and haven't substantially added anything since then Google will see your site as not so active).   Higher in search results is always good!
I already hear you saying, "but I'm not a writer".   Every Pilates teacher I have talked with, taken a class with, or met at the Annual Pilates Method Alliance meeting is passionate about they do, and can talk about Pilates with pretty much anyone!   That's all it takes.   Write down every question a student or potential student asks you — and answer it in a blog.
Not all your potential customers read blogs intentionally, but they all use google to find answers and info.   If your blog has the info they are looking for, they'll find your blog through a google search and discover your brand.    Isn't that better than taking fliers around to every house in your city?   If you'd like blog topics or to talk about starting a blog, set up an appointment on my website!   I'd love to do a free blogging consultation!