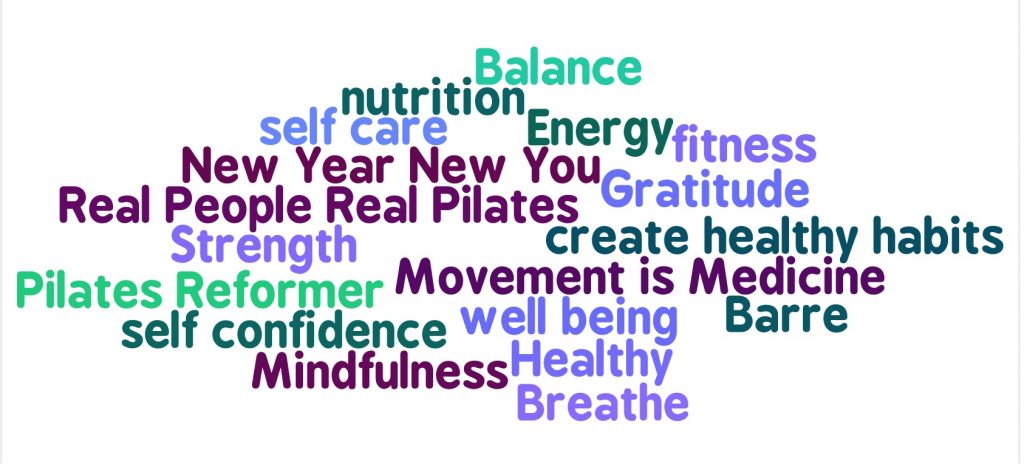 I made a "wordle" for one of my client's newsletters this month, and she was surprised that I made it myself!    So for all of you that have never made a wordle — here is your chance.    I will tell you that there are apps that do similar things for tablets and phones, but I've always found them to have less functionality than the actual website — wordle.net
Full disclosure.   While you can create a wordle in minutes — there's a lot of things you can tweak to make it "even better".    Don't expect everything to be perfect the first time.    Here's directions and tips.
If you're using a mac – you have to use Safari (not chrome) to make a wordle.
Go to wordle.net
Click on Create your Own.
You'll be able to type or paste in the words you want to use.  To keep the words together in a phrase use a tilde between the words (Single~Leg~Circle).
If there is a word that is more important than the rest of the words, the more times it appears in the list, the more emphasis it will have in the wordle.   
This step — I learned by the experience of typing and retyping.   Copy the list of words in your wordle and paste them into notepad or a word document — even an e-mail message.  This will save you typing them in again if you want to start over, add some things or just try again.
Click go to create your wordle.    You may have to click "run" or "unblock popups" to allow the application to work.
The wordle will appear –
If you'd like to change colors, font or the way it appears – use the menu to do that.   Many times I end up doing a custom palette, just to get colors that match a website.    
I changed the font on this screenshot – just to give you an idea how different a font may make it look!   Every time you change the font, your words will be rearranged a bit.   Just keep going till you find a look you like!  
Save your file — and use it where ever you want!   There's a save as png button, or I usually just end up taking a screen capture of it and saving it to where i want to save it.     Keep in mind – that Facebook will "look" at this graphic and see words — so you cannot use wordle images in a Facebook Ad.
Any questions?     If you want to chat about wordles or other tools to help you create more engaging posts and blogs, just make an appointment on my website!