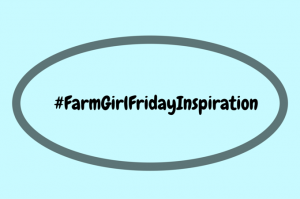 Today's Farm Girl Friday Inspiration comes from a business that some people might not associate with social media marketing.   A dental office!   Small heath care businesses have some restrictions on how they do social media marketing, because they have to be extra cautious about their patients' privacy, but Coral West Dental is emerging into the social media marketing world with authenticity about their providers.   I have thought of taking my business card in to my next appointment, because their posts are not exactly consistent, but yesterday they blew me away with this video!

With this inspiration comes an admission of my own. I am afraid of dentists I had braces when I was young, and I think that my orthodontist didn't like children.    I have memories of being left in the dental chair for what felt like hours with the cement tray in my mouth when they were taking imprints, and going home and crying after a dentist visit because it felt like he had tightened the screws on my braces to the point where I couldn't stand it.   A few years ago, my tooth aches, actually my mouth aches were so severe, that I knew I had to call the dentist.     I didn't want to admit my fear (or the fact that I had neglected my teeth) to anyone, so I picked my dentist by looking in the phone book and online.    I picked Dr. Rubel because his website contained the phrase "gentle dentistry"
Yesterday, Coral West Dental had a post on social media with a video that reminded me of the moment that I walked into that office for the first time.   What was it in the video that reminded me of that first time and the very sensitive care they gave me?   It was Dr. Rubel's voice.    He genuinely cares about every patient and while the office has grown over the years that I have been going there, his attitude is constant.    He's a gadget geek — the office appears to have the newest technology, and even has guest internet.    It doesn't even resemble the dentist office I went to as a child, because it is more like a spa.   More importantly to me, the office doesn't smell like a dentist office so I don't have the urge to flee when I walk in the door.       The video reminded me of all the reasons I am comfortable in Dr. Rubel's office, despite my fear of dentists.
Congratulations to Dr. Rubel and Coral West Dental on being the kind of health care office that people remember with a smile on their face!   That's why Farm Girl Marketing Solutions has recognized them as our #FarmGirlFridayInspiration!