I have over 38 thousand photos on my computer. It seems like no matter what I'm doing (working on Instagram, working on newsletters, working on websites, etc.) the most time consuming task is looking for photos that apply to what I'm doing. For example, if I'm working on a newsletter about Pilates Reformer Teacher Training, I will want a pic of a teacher training session on the Pilates reformer. If I'm creating a graphic for a sale on semi-private sessions – I will want a picture of someone teaching 2 people Pilates. If I'm creating a tee-shirt design I spend some time looking at designs I have saved throughout the year to see what might inspire me.
What I've learned over the past couple of years as my business has grown, is that organizing my photos save time in the long run. You know that old saying, if you do it right the first time, you save time in the end? I used to cringe when my mom said that to me, but now I truly understand.
Here's how I do it.

I upload everything from a photo shoot to my photos and then edit them, and trash the rejects. Any time a post or picture inspires me — i do a screen capture of it and leave it in my photos. I end up with a lot of photos!
I use the functionality of my Mac to create a Smart Album for photos that have not been filed in an album yet.
Once a week, I take 30 minutes to file photos. I go to the bottom of the smart album (most recent) — and start filing my photos into the appropriate folder. You can select one or a group of photos – and either drag it to an album name — or you can go up to the file menu and make a new album.
WARNING!
This will quickly get out of control unless you use some sort of logic for your album names. For example, I save all my client pics in albums that are named fgc-CLIENTNAME. If I mistakenly name the album fgc (space)-Clientname — the folders will be in a separate place than the ones without the space.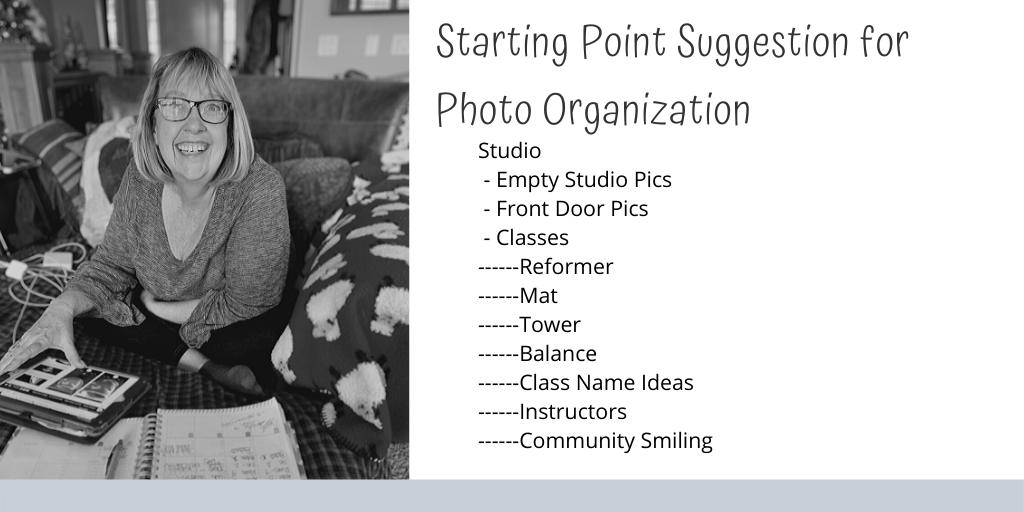 TIP! The more specific you are in your organization — the more time you will save. I used to have a folder called Pilates Marketing Ideas. After working with this and still taking more time than I thought I should finding photos – I have divided that folder into Pilates Class Name Ideas, Pilates Joe quotes, Pilates Inspiration, Pilates Challenges, Pilates tee shirt ideas, Pilates cool graphics. Since all the names start with Pilates — they all show up in a bunch in the Pilates area of my photos – but it's much easier for me to find a picture!
It's possible to make a smart album so that any pictures you take in your studio – go into an album named studio photos. I would still recommend organizing these photos into more specific albums like, reformer class, tower class, private session, pics that show community, etc.
I have learned — that this is also a great way to organize my personal photos. When we go RV-ing – I generally have an album for every city/state we visit — so when I'm looking for a photo from a certain campground — I go to the folder that says RVLife-SanAntonio, or RVlife-SantaFe.
Are you worried about disk space? Never fear — your mac takes care of this for you. Just because you put a picture in two albums — doesn't mean that Photos is making multiple copies of it. The photo is stored in Moments and then shown in the other photos. How does that apply to Pilates? You can store one photo in "Pilates Private Session" and "Pilates – Libby Teaching" and Pilates Reformer photos. The more specific you are the more time you save!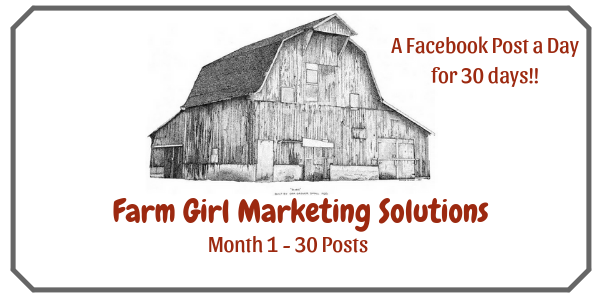 Organizing your photos takes some time up front — but if you keep up with it — it's easy to find the right photo when you need it. One of the items that I created for Pilates Studio Owners, is called a Facebook Post a Day. You get a Facebook posts each day via email, which you can customize for your studio. In these emails — I send you text and a suggestion for a picture to use with the post. When your photos are organized — this is a breeze!