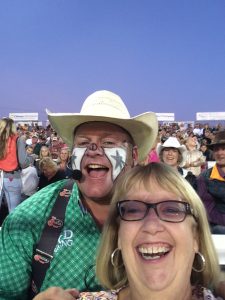 So we're sitting at a rodeo last night, and my phone is in my hand because I'd been taking some videos – and we're watching the interactions between the rodeo clown and the announcer – and the clown makes a joke and then goes to interact with someone in the audience a couple of rows behind us.   He sits down behind us – and I decided a selfie with the clown would be fun.   The clown – Justin Rumsford, many time pro rodeo entertainer of the year – reacted immediately.    He posed for the selfie – and then grabbed my phone and headed for the arena.    My family was very amused.    He said — wow — the phone's not locked!  Of course it's not locked – I was using it, I actually have the auto lock feature set to a little longer because I rarely let my phone out of my hand! 
Then we see why this man is a rodeo entertainer of the year.     He is a genius at improvisation.   He lays down on the ground, strikes a pose, and goes to the Facebook app so he can post the pic.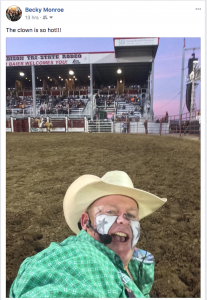 What did I learn from Justin Rumsford?
Take advantage of every opportunity.  Justin Rumsford did not know I was going to be sitting there with my phone in a position easy for him to grab — he saw it, he ran with it, he did it with humor in a family-friendly way – and although I'm always uncomfortable when my gadget is not in my hand, I was not concerned about security.   I was however a bit concerned about who he might call or text!
You know that saying — if you can't say anything nice – don't say it?   I knew I did not have to worry about Justin reading any posts aloud – cuz I knew I hadn't written anything that would embarrass me or Farm Girl Marketing.   He checked my texts — can you imagine what might have happened if he had found a post where I talked about the clown or the announcer at the rodeo?     Here's the video – in case you want to see what was happening when Justin Rumsford had my phone!