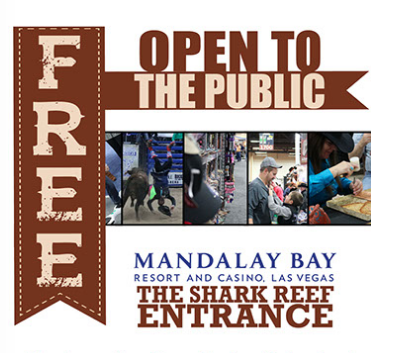 I think I made this clear in my Cowboy Christmas blog, but I love the NFR and all the western lifestyle shopping opportunities that come with it.   The Roper Cowboy Marketplace at Mandalay Bay has always been on our list of things we need to do while we are in Las Vegas.   Last year, we overheard people at the rodeo one night saying that the Mandalay Bay show had shut down.   The next morning, we decided to drive by Mandalay Bay on the strip and see what we could see.    What we saw was people going in and out of the Roper Cowboy Marketplace, so we stopped and went on in to see what we could see!
First bonus — Free parking — and we got a great parking place.    That was total luck, but we were glad because the Mandalay Bay convention space is beyond huge.    I'm pretty sure the small town I went to elementary school in (population 292) could fit in that convention space several times!   Thus — even with an amazing parking place — we walked a good 1/4 – 1/2 mile before we entered the exhibit hall!  The new exhibit space was amazing — and the show was huge!
If you take a cab to the Mandalay Bay, make sure to have them let you off at the Convention Center / Shark Reef Entrance, or you're in for a walk that's way over a mile.     The front entrance of the casino – where cabs usually drop you off, is a huge walk from the convention space.    About 1/2 way in between the casino and the convention space is Border Grill!     Great food and drink — but it's a pricey.   Still, they serve some of the best guacamole we've ever had — so we generally take a break there during our trip to the Roper Cowboy Marketplace.
There was an arena where some events were held, but there wasn't anything going on while we were there.   Still, the place smelled like a rodeo — so it kept us in our rodeo mood!  My favorite western furniture vendor is generally at this show, and I've found some unique jewelry, clothing and boots there!     Last year – there was a tattoo artist doing tattoos at this show!   I missed it at first, and Mike had to stop me and say — "do you hear that whirrr?" I looked closer, and saw a 1/2 done tattoo on someone's leg!    Who goes to a marketplace to get a tattoo?     
I read that Gizmo McCracken was going to have a show at Mandalay Bay this year.   I've never seen him, but Mike was at a rodeo where he was this year and said he was pretty funny!    You might want to check out show times before you go!
This is the second marketplace I've blogged about, but you'll find that there are similar things at every show, but every show has a unique flavor!   Many vendors go back to a certain show every year.   Every marketplace has multiple bars!   You can find a soda or a bottle of water at these bars, but it will cost you $$.    Sometimes if you look around the corners in these halls you can find the vending machines — and that might be your most economical beverage!  I think they all have Cinch/Roper/Stetson, multiple places to purchase boots, I think they all have a Boot Barn, and I think most a place to buy NFR Apparel and Souvenirs.   However, the only Ticket Exchange and opportunity to purchase tickets to the NFR is at Cowboy Christmas.
Also you'll see the NFR Professional Athletes around all the Marketplaces.      They're generally signing some autographs – and doing some Christmas Shopping!     You'll want to keep your NFR Experience App  (IOS  or Android)  pretty handy because when you see on the trademark leather jackets — you can look up the athlete's back number and see the athlete's name — and you can even look up how they did at the rodeo the night before.    The NFR app is going to be your friend!   (You might want to take a Mophie or portable battery for your smart phone.)    Most of the rodeo athletes post where they are signing autographs on social media, so if you are looking to get some autographs — follow your favorite athletes.
The one thing that amused me about the Roper Cowboy Marketplace last year — was the Mattress Barn Booth. It was HUGE. There must have been 30 or 40 beds, and people were actually stopping and talking with the sales people.     Finally my curiosity got the best of me (and there was a really pretty dog in the booth that I wanted to look at) — so I went to ask the salesman if people really purchased mattresses when they went to the NFR.   He showed me a mattress that cost over $14,000!!!!
What about you?   What's your favorite booth at Roper Cowboy Marketplace?