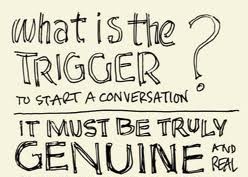 Are your results from social media slim to none?    Are you talking about your products or your special pricing and no new customers are coming in the door?  Try changing your approach.   Try sharing instead of sales.    Try connecting, instead of sales.   Most important, try educating instead of sales.    Be genuine.   Just like children know if the person talking to them is sincere, I believe potential new clients read social media that same way.    If you're pushing sales, they'll mistrust you as much as if you were selling used cars.    If you're educating them on how to reach their health goals, or on why Pilates is not the same as other exercise methods – they'll start to listen.
Speak to the potential Pilates client as if you were speaking in person.  They want to know you, they want to "identify" with you, and they want to know that they'll fit in at your studio.  In short, they need to "like" you.  They also want to know what you've done for people like them – so positive client testimonials and reviews are very important!   Most studies say 65-75% of consumers rely on social media when making a buying decision.  That's 7 out of 10 people that could be coming to your studio!
Here are some tips — for staying "true" on social media!
Be consistent with your posts.     Whether it's daily — or 3 days week — make sure you get those posts into the public consistently.
Share your knowledge.   It's ok to say "I don't know" if you get a question that's outside of your expertise, but sharing knowledge shows that you are comfortable in your space, and you're not going to hoard knowledge and hand it out only when someone pays for it!
Respond to every client response or share.
Be transparent.  Sometimes, the ultimate transparency is admitting that you have made a mistake.   People will respect you for owning your actions!
Be personal.   Clients want to know that you will learn their name, that you will treat them as an individual.   Mention clients in your posts, and express gratitude and praise!
If your results from social media aren't what you want them to be