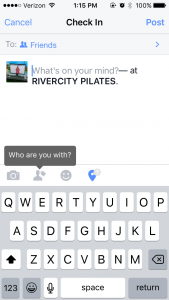 One day I was brainstorming with Carey Sadler of Rivercity Pilates and she asked me if we needed to "encourage" some people to write reviews of their experience on their Facebook Page. I waffled on that one, because I couldn't remember where the reviews come up if you're checking Facebook on a mobile device. I said, "Let's try check-ins".
I knew Facebook had been changing it's news feed algorithms (a subject for another day), and I knew that I had seen posts when my friends on Facebook had checked in to places (either automatically or manually). So if I checked in at Rivercity Pilates, then all my friends on Facebook would see the check in post. Instant exposure, with no cost involved except for the weekly prize, and Carey started with the prize being either a pair of Toesox or a free mat class.
The very first day, the very first check in was from a Rivercity Pilates staff member, and less than an hour later, there was a response from one of her friends saying that she'd been wanting to try Pilates, and asking for more information about the studio! Instant Success! Sometimes, people respond by liking the Rivercity Pilates page on facebook. Then they watch what's on the page, trying to decide if it would be a place they'd like to visit, or a community that they would like to join. We knew that every check in wouldn't pay off like that, but the average Facebook User has 338 friends. If every check in put Rivercity Pilates studio activity in front of 300+ people, then it doesn't take long for the prizes to pay for themselves.
As with anything in the social media world, consistency is the key to success. Your staff needs to remind people to check in. You need to be consistent with the prizes, and occasionally — you might want to give away "a big one". People need motivation. Everyone walks into a business with their smart phone, some are texting on the way in. You just need to persuade them to check in and your business name goes out to all their friends. If that check in gets a few likes from the first folks who see it, Facebook will send it out to even more people. You can have signs and reminders around your business.
If you have taught Pilates for a while, you know that everyone has to decide when the time is right for them to start a Pilates practice. If they start seeing that their friends are going to you Pilates studio on a regular basis, that may be just the jump start they need to check out your business.
Check ins can be an instant social media WIN for your business. If you'd like to talk about more ways to use social media to increase your business, I'd love to talk with you about it.