As a Small Business Owner/Pilates Studio Owner, you can use Facebook to create a community, engage your clients, and encourage potential clients to visit your website and/or studio.   In a recent blog I talked about encouraging engagement.   All the likes and shares really help promote your studio.
Easy right?  Not exactly.  I have a friend who runs an animal rescue, and he was saying that people just don't scroll down in their newsfeed.    That may not be it.   Facebook considers a "Newsfeed" a personalized newspaper.   They have algorithms that show you what they think they want to see.  So for instance, if one of your instructors has never "liked" one of your posts, your posts may or may not appear in their newsfeed.    If one of your instructors like and share every one of your posts, they are more likely to see your post in their newsfeed.   Facebook wants you to buy Ads, and they've learned from feedback that their users don't want to see overly promotional posts.   i.e.  "come to my class on friday — it's going to be great" or "buy this t-shirt for $20".     I am not aware of any magic wand that tells you about these algorithms — but there are things you can do!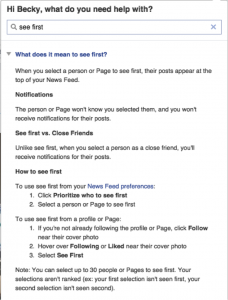 Last summer, Facebook released the "See First" functionality.    The description of this functionality from Facebook help is on the right.    Here's how to set it up using the mobile app on your tablet or phone:
Click the more icon
Choose Settings
Choose news feed preferences
Then choose "Prioritize who to see first"
If your staff (and clients) do this — they'll see your posts first in their news feed!   If they like and share each post, your posts are shown to more people! That's a win for you!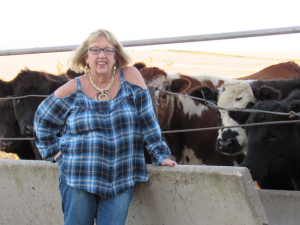 For more social media hints follow our Farm Girl blog by entering your email address in the box in the right column!
Becky