Do you do some Google Searches regularly to see what people get if they google the services you offer for your town? Believe me, it's worth it.    If you're a Pilates Studio Owner, go on over to Google, and google "Your City Pilates".    If you have a small business with another product — just type your product instead of Pilates.    If your business isn't coming up a one of the top choices – you will want to do some work to see if you can make it come up higher in that search.    If someone is looking for what you offer – you certainly don't want them to have to stumble upon the fact that you exist!    Just put that item (check how you're doing in Google) on your to do list on the 1st of every month!
Sometimes moving your business higher up in the list is as simple as verifying your business on Google and making sure you have key words listed for each page on your website that have your city name and your product.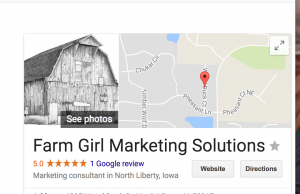 How do you know if your business is verified?     If you Google your business name, and it comes up with the map, phone number and reviews — your business is verified.  This means at some point you entered your information and took the steps to allow Google to verify that the business is legit.
Verify your business?    How do you do that?   Just type in Google My Business in the Google search bar and follow the prompts to set your business up!   Google will send a post card to your mailing address (or dial your phone if you have a land line), and they'll give you a code to enter into your Google Business entry to verify your business.   When people review your business it will show up there in that very very box when people search for you!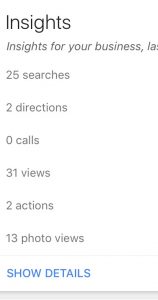 Another perk?   You can download the app for your phone and tablet — and have easy access to stats to see how many people have searched for your business, and how many people Google has shown your information too!    As you take different actions to promote your business — whether it's marketing on social media, a radio commercial or a personal appearance, you can check your stats, to see which method has the most impact!
This is what the Google My Business App looks like on the Apple App Store.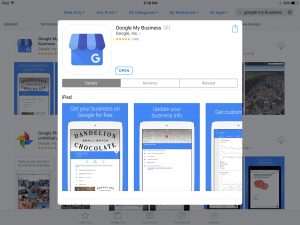 Download the app, verify your business and see what you can learn from your Google stats!   If you need help – Farm Girl Marketing Solutions is here to help!