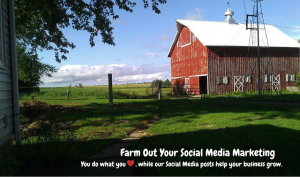 Farm Girl Marketing Solutions offers the following options to assist you with marketing your business. Choose one or more of the individual items or select one of the packages for more than one item!
Blog Management: 
FGMS will provide a blog calendar, ideas for blogs, editing and posting of up to 5 blogs per month.  FGMS will post blogs on business' existing social media platforms.
Monthly Newsletters
FGMS will compose and edit monthly newsletters.  Content will include relevant news to assist with sales, custom promotions, education about your business, and articles such as "meet the realtor" or "buyers inspiration" to create a personal connection to your business.
Linked In
FGMS will manage your Linked In account, create connections, and post 2x per week with relevant blogs/ posts that increase awareness of your business
FaceBook & FaceBook Ads
FGMS will provide content for 5-6  Facebook posts per week directed at your target audiences.  FGMS will create and monitor Facebook Ads with a budget of 60-90$ per month (Ad money is not included in the FGMS price for this item)
Promotions
FGMS will brainstorm with business owner to develop seasonal or item-specific promotions and marketing strategy for those promotions.   This is priced by promotion ($69).   Each promotion would include a custom graphic and an action plan for marketing.  For example, if you wanted to give away a promotional item for everyone who was a first time buyer, FMGS would work with a vendor to design the promotional item, include the promotion in social media posts to market the promotion to first time buyers.
Twitter
8-12 Tweets per week about what is happening at your business, plus forward scheduling (scheduling a tweet for today, 2 weeks, 2 months, 6 months) to extend the life of the tweet if appropriate.
Instagram
5-7 posts per week about what is happening at your business,, trends in your business, possibly even community events your business is supporting. (Small Business Owner should help provide photos.)
Packages
FGMS offers the "Complete Social Media" package and the "Becky" package as cost saving options to help you maximize your marketing dollars on your digital presence.  Alternatively, you can choose one or more of the individual items for your business.
Complete Social Media:  
Select 3 of the social media options above.    FGMS will post on Facebook, manage Facebook Ads at whatever budget the owner decides, and include two of the other social media individual items as well.  (Includes 3 of the following:  Facebook / Twitter /  Instagram / Linked IN options above.
The "Becky"
This is FGMS complete marketing package. This includes blog management (10-15 blogs per month), Newsletters, Facebook and Facebook Ads,  1 monthly promotion, Instagram, LinkedIN and Twitter Management).
FGMS packages are priced per month for 6 months and start at $49 per month.  If you would like a 12 month package, you will save 10% on all pricing.   If you choose to make a 3 or 4 month commitment, please ask for pricing.